Tourists Flock to Iran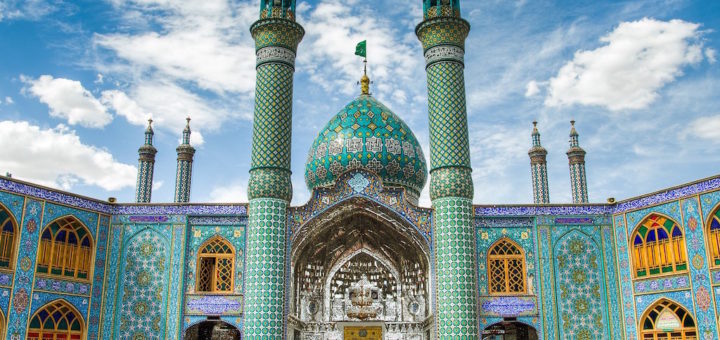 Key sites in the historic city of Isfahan have witnessed a significant rise in visitor numbers since the nuclear deal.
Sunlight spills across the turquoise and sapphire dome of the Shah Mosque in Isfahan's Naqshe Jahan Square, and in its shadow, dozens of tourists hold cameras aloft to capture the memory.
The square's name translates to "image of the world", and countless feet have crossed these grounds to marvel at the World Heritage site first-hand.
"Gardens, palaces, mansions, mosques, schools, bazaars, magnificent bridges and most of all, the splendid square of Naqshe Jahan, all are the memories that stick in the mind of any travelers who visit Isfahan," the American linguist AV Williams Jackson wrote more than a century ago, after his own trip to the central Iranian city. "The memory remains so vivid and stable that it even won't get blurred after months and years."
Tourists ride horse-drawn carriages through Naqshe Jahan Square
Today, Isfahan remains one of Iran's biggest tourist draws: An inquiry to the reservations desk at its landmark Abbasi Hotel, recently lauded by CNN as "the Middle East's most beautiful hotel", revealed that it was fully booked for the next three months.
Mohammad Izadkhasti, Isfahan's tourism deputy, says the city needs tens of thousands more hotel rooms to meet growing demands
Other hotels throughout the city are routinely filled to capacity as tourists have flocked to Isfahan in increasing numbers since the implementation of Iran's 2015 nuclear deal, according to municipal officials.
"In the past two years, I can say the number of incoming tourists has been three times more than we had before the deal. More important are the investment figures. Investment has been exceptional, several times more, since the nuclear deal," Mohammad Izadkhasti, the city's tourism deputy and an adviser to Isfahan's mayor, told Al Jazeera from inside his bright, airy office, citing significant investments in the accommodation and recreation sectors.
"The current hotel infrastructure and accommodation capacity of the city is very low," he added. "There are currently 15,000 rooms, but statistics show we need at least 150,000."
Visitors sip tea in the courtyard of the landmark Abbasi Hotel
The rise in tourism numbers in Isfahan mirrors a countrywide trend: Since the 2013 election of President Hassan Rouhani and the ensuing nuclear agreement, tourism numbers have surged, increasing to 5.2 million in 2015 from 3.8 million in 2012. Revenue for tourism in 2015 exceeded $8bn in Iran, which is home to 21 World Heritage sites, including the majestic ruins of Persepolis, the Persian Garden properties and the historic bazaar complex in Tabriz.
Pejman Abdolmohammadi, a visiting fellow at the London School of Economics Middle East Centre with expertise in Iran, noted that the "trust of tourists, particularly from Western countries, [has] started to increase". But that could change depending on the outcome of Iran's upcoming presidential election, as well as on the future of the nuclear deal, which US President Donald Trump has threatened to scrap.
Among the most popular evening gathering spots in the city is the historic Allahverdi Khan Bridge
"Economically speaking, Iran at the moment needs foreign investment. Working on creating more security and stability in the political field would be the best strategy," Abdolmohammadi told Al Jazeera. "Iran has many tourist sites … [including from] the pre-Islamic era and Islamic architecture that have immense potential for tourism, which is still not discovered."
Should Washington tinker with the nuclear deal, tourism could suffer in the short term – but within the next decade or two, Iran is nonetheless on track to continue rebounding as a strong actor in the industry, he said.
"Iran as a player is coming back to the scene," Abdolmohammadi said. "The first, very small signal has been the [recent increase in tourism and investment], even though that is just the very beginning of this comeback. Economically speaking … the alliances that Iran may create with India, Japan and other players could create a new Asiatic actor going beyond the Middle East."
Outside this restaurant in Naqshe Jahan Square, a long queue of people wait to be seated for lunch
Many within Iran's tourism industry echo this optimism. According to Mohammad Dorri, a 36-year-old mechanical engineer who has worked as a tour guide for the past five years, the recent easing of visa restrictions for many foreign tourists – along with the lifting of international sanctions – has resulted in a massive boom for his agency's business.
Iran is home to 21 World Heritage sites
"Over the past two years, there have been around 10 times more incoming tourists than in previous years," Dorri told Al Jazeera, noting that his agency handled an influx of around 500 tourists last year.
"The classic destinations we get the most requests for are Tehran, Isfahan, Shiraz, Kerman, Yazd; the more experienced tourists also ask to see Tibriz and the Caspian Sea region. Isfahan is always one of the most popular requests."
But Dorri and others have stressed the need to better advertise Iran's tourism offerings and to bolster the country's lagging tourism infrastructure – particularly as the government has announced an ambitious plan to attract more than 20 million tourists by 2025.
Craftsman Reza Galily works on a copper plate at a tourist shop in Isfahan
"When tourists from Western countries want to book a hotel here [in Isfahan], either it's not available, or he or she can stay just one or two nights, when they might have wanted to stay a week here because there's a lot to see," Izadkhasti said. "It goes without saying that the city loses a lot of money."
To help deal with the continuing influx, the city has taken a number of steps, including bringing taxation for building hotels in Isfahan to zero and making plans to convert a number of historic houses into accommodation facilities, he said.
Tourists snap photos of the elaborate artwork inside one of Isfahan's historic churches
Al Jazeera recently spoke with a number of tourists exploring Isfahan, and despite ongoing geopolitical tensions in the region and increasingly harsh rhetoric towards Iran from the United States, none expressed any concerns about visiting the country.
From a rooftop plateau in the grand Ali Qapu Palace, German tourist Nils Schmidt-Soltau, 38, gazed out across the manicured lawns of Naqshe Jahan Square. He said that he could not have imagined a trip to Iran without a stop in Isfahan, noting he was struck by "the culture, the monuments and the friendliness of the people".
Visitors sip hot drinks and snack on saffron-flavoured treats inside this tea shop in Naqshe Jahan Square
Outside the Shah Mosque, Swiss tourist Betty Dumas, 64, said that she and her friends visited Tehran and Shiraz before coming to Isfahan: "[We came] to discover the country, and it's quite easy now to get a visa."
Still, Reza Galily, who works in a local shop chiselling exquisitely detailed designs into copper plates, pointed out that tourism in the area had not reached its full potential. Surrounded by turquoise and silver coloured plates, he acknowledged that despite the recent rise in numbers, "the types of tourists who spend a lot cannot come and spend a lot here" due to the exclusion of foreign debit and credit cards from the market.
Iran rakes in billions of dollars in tourism revenue annually
Meanwhile, outside Isfahan's popular Shahrzad Restaurant, clusters of people wait for upwards of half an hour to enjoy steaming plates of kebabs under the soft light of stained-glass windows and mirrored ceiling inlays.
Turquoise and sapphire, the trademark colours of Isfahan, are woven throughout this intricate mosque ceiling design
Elsewhere, tourists stop to examine the centuries-old paintings inside Vank Cathedral, or to sip sugary tea in the lilac-scented garden of the Abbasi Hotel. Among the most popular evening gathering spots in the city is the historic Allahverdi Khan Bridge, where locals and tourists alike converge to sing songs, fly kites and spread out picnic blankets under the night sky.
"The most important thing about the city that has attracted many tourists over the years is its cultural identity, which has continued over thousands of years. There has never been a cultural gap," Izadkhasti said. "When tourists come to the city, they can take a tour through the heart of history from different periods. In many cities there is an old part of town and a new part of the city; the old part of the city is open for tourists, and they come and see and enjoy it.
"But Isfahan is like a museum," he added. "Every corner of the city is integral … It has developed its own cultural identity. This is what's most interesting for tourists."
'Every corner of the city is integral … It has developed its own cultural identity'
Story by Megan O'Toole and photos by Wojtek Arciszewski for Al Jazeera.