RoboCup Iran Open 2017 in Tehran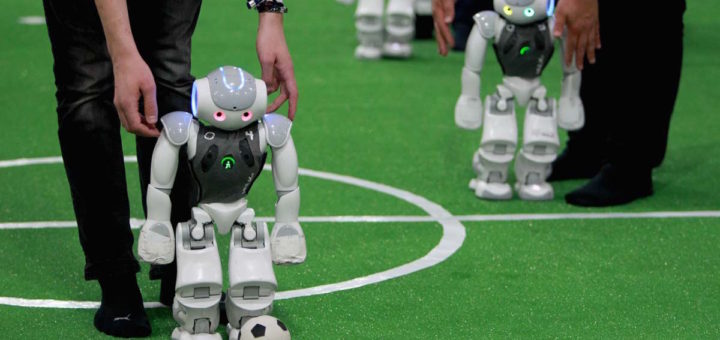 The 12th edition of the international Robocop competitions (RoboCup Iran Open 2017) started on Tuesday at the Tehran Permanent International Fairground.
Some 2,820 contestants from the United States, Germany, India, Japan, China, Singapore, South Korea, the Netherlands, Pakistan, Mexico, England, Turkey, Peru, and Iran will be competing during the 4-day event, Tasnim news agency reported.
The first RoboCup Iran Open took place in April 2006, Tasnim quoted Morteza Moosakhani, the chairman of the National Robocop Committee as saying.
He went on to say that 139 Iranian teams and 21 foreign teams will be competing in the university students' league, 167 Iranian and foreign teams in the school students' league, and 39 Iranian teams as well as 15 foreign teams in the simulation league.
The teams which succeed to win a title will be qualified for international competitions, Moosakhani highlighted, saying, Iran is also playing host to Asia-Pacific competitions.
"RoboCup competitions aim to promote robotics and artificial intelligence (AI) research and would help to shift from an oil-based economy to a knowledge-based one," he suggested.
RoboCup (Originally called as Robot World Cup Initiative) is an international research and education initiative. It is an attempt to foster AI and intelligent robotics research by providing a standard problem where wide range of technologies can be integrated and examined, as well as being used for integrated project-oriented education.
While soccer game is used as a standard problem where broad-range of efforts will be concentrated and integrated, competition is only a part of RoboCup activity. Current activities of the RoboCup consists of technical conferences, RoboCup international competitions and conferences, RoboCup challenge programs, education programs, and infrastructure development.
Currently, RoboCup leagues has five major domains of RoboCupSoccer, RoboCupRescue, RoboCup@Home, RoboCup@Work, and RoboCup Junior.
Report by Tehran Times; photos by IRNA's Marzieh Soleimani