Iranians Do New Year's Better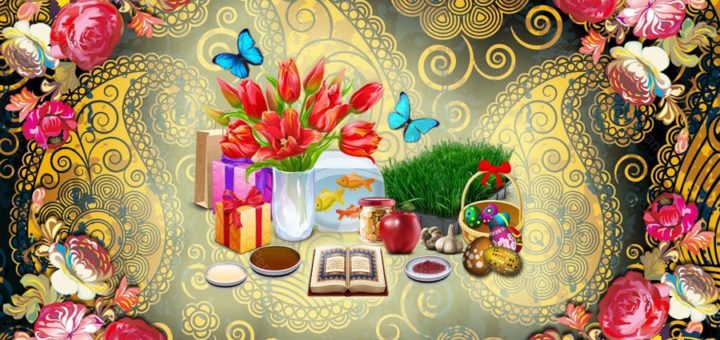 Being an immigrant from Iran has never been a cakewalk. From the moment I landed in the United States as a 6-year-old in the late 1970s, I had to navigate a world where my "people" were the bad guys and I had to represent them on the playground.
While Chinese-Americans had Bruce Lee and Italian-Americans had Rocky Balboa, I had Ayatollah Khomeini and the hostage crisis. What a way to make friends! I came to resent anything having to do with my Iranian background, including one of the oldest Persian traditions celebrated annually by my loud immigrant family, the Persian New Year, or Nowruz.
Nowruz, which translates to "new day" and falls on the exact moment of the spring equinox, is surrounded by many rituals and celebrations. Each year, my grandparents would set up a table called a haft sin with items symbolizing hopes for the new year, including a plate of lentil sprouts (which looked like grass), a mirror, an apple and even a goldfish. My American friends who came over would inevitably ask me what these items were for:
"Dude, why do you have a goldfish surrounded by grass and an apple?"
"It's for our new year … we're from Iran … no, we're not terrorists!"
Because Nowruz happens at the same moment around the world, some years it would fall at 3 a.m. on a Tuesday in California, where we lived, so my dad would wake us up to scream New Year's greetings to distant relatives in Iran. (We screamed because the phone lines were so old they sounded like tin cans connected by a string.) When I asked my dad why we couldn't wait and call these people at a normal hour, he would drop Iranian etiquette lessons on me:
"Son, in our culture, if you let them call you before you call them, it's an insult."
"So does that mean we should be insulted that they didn't call us first?"
"No, son, it's the New Year, don't be petty."
In college, things changed. I met a group of Iranian-American guys who had gone through the same trials and tribulations as me. We started hanging out and began to embrace our culture.
I found myself going to Persian concerts, playing soccer on a team of mostly Iranians and even taking lessons to learn to read and write Persian better. I learned a bit more about America's complicated history with Iran and how the C.I.A. had helped overthrow a democratically elected prime minister in the early 1950s, which put the country on a collision course with the revolution that came in 1979. Things no longer seemed so black and white, and I could see the good in my Iranian culture without feeling shame. It was an awakening that many immigrant kids have as they grow up in the United States.
In learning to appreciate my background, I started to see the beauty in the rituals of Nowruz. One year, a few days after the holiday, my grandfather asked me to drive him to a place with a flowing river. We ended up in the canals of Venice, Calif., where he brought the lentil sprout grassy thing and threw it into the water. What was he doing? What if somebody saw us? We could get fined for littering. More negative press for Iranians!
But my grandfather calmly explained that he was simply giving nature back to nature. It was a symbol of letting go of the past year, letting it flow away and looking forward to a better one. The same way we make a New Year's resolution to improve ourselves every Jan. 1 in the West, my grandfather was looking to make his new year a better one than the past.
I started seeing more similarities between Nowruz and many Western holidays. The main difference is that with Nowruz we celebrate almost every American holiday over a two-week period. It's the new year, like New Year's Eve, and we give gifts like Christmas, we paint eggs like Easter, we go door to door for treats like Halloween, we set off fireworks like the Fourth of July and we picnic like Labor Day. (The only holiday that's not part of Nowruz is Valentine's Day, which leads me to believe that Nowruz was definitely started by a man.)
Almost 40 years after I arrived in America, Iran still holds a place as an enemy of the United States. It has been in every travel ban the Trump administration has put out, 1.0, 2.0 and 3.0. (It seems as if they unveil one every six months like an iPhone update. I can't wait until Travel Ban X comes out. I hear it has facial recognition technology: The browner the face, the quicker the ban.)
However, I no longer resent my Iranian background. If anything, I'm proud of it. Most Iranians I know are good, hard-working people. They come to America for opportunity, and they give back to this country. We may be portrayed as villains in the Western media and President Trump's speeches, but in real life we're pretty darn pleasant. Sure, we may haggle you to death, but who doesn't love a good bargain? (Pro tip: To get out alive from a negotiation with an Iranian, keep saying the phrase "my friend" every time you counter. It'll save you some money.)
This spring, when you hear birds chirping and smell the scent of blooming flowers, think of Nowruz and of Iranians. But if you get seasonal allergies, don't blame us. We've suffered enough.
By Maz Jobrani for The New York Times