Maz Jobrani's Jimmy Vestvood in Theaters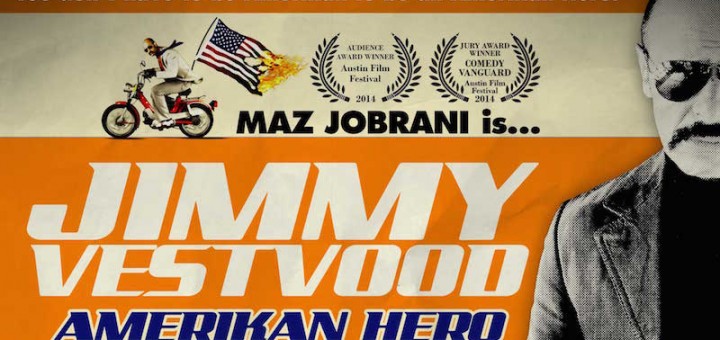 Maz Jobrani's newest movie Jimmy Vestwood: Amerikan Hero is coming to a theater near you on May 13.  You won't want to be the only one to miss it!
A message from Jimmy himself:
Well after all the yelling and screaming and pleading we are finally there. My movie, Jimmy Vestvood; Amerikan Hero will hit theaters this Friday the 13th. And we are counting on you to help us make this film a success.
Please please please get your friends and family together and go see this movie opening weekend. We need a good first weekend in order to stay in theaters and also to expand to other cities. I guarantee you will laugh and if you don't I will come to your house and tickle you myself! Also please please please post the information about the movie on your Facebook and Twitter and Instagram and let the world know. We are the little movie that could. I hope that with a little success on this film we can show Hollywood that there is a place for movies that show Middle Easterners in a fun light. Please be a part of our movement and go see the film opening weekend. All dates and links are right here below. Buy your tickets right now and help us sell these out! If you don't live in any of these cities let your friends know. If you don't have any friends then just call random people and tell them about it. I'll say it again WE NEED YOU!
The film opens in LA, Encino, Irvine and DC on the 13th and will play all weekend. It will then open in New York, Great Neck and Toronto on the 20th and play all weekend. It will also have 2 screenings in San Francisco on May 29th which I will attend. It is in English and recommended for 13 and older. Go have some popcorn and a laugh!
BEVERLY HILLS Laemmle Music Hall — opening May 13
http://www.laemmle.com/films/index/40607/
ENCINO Laemmle Town Center 5 — opening May 13
http://www.laemmle.com/films/index/40607/
IRVINE Edwards University Town Center — opening May 13
http://www.fandango.com/edwardsuniversitytowncenter6_aabhi/theaterpage
WASHINGTON D.C. Angelika Pop Up — opening May 13
http://www.fandango.com/angelikapopupatunionmarket_aaxgl/theaterpage
NEW YORK Village East — opening May 20
http://www.fandango.com/citycinemasvillageeast_aaecf/theaterpage?date=5/20/2016
GREAT NECK Bow Tie Squire Cinemas — opening May 20
TORONTO York Cinema — opening May 20
SAN FRANCISCO Roxie — opening May 29
http://www.roxie.com/ai1ec_event/jimmy-vestvood/?instance_id=12483
http://www.jimmyvestvood.com