Iran vs Qatar World Cup Qualifier Preview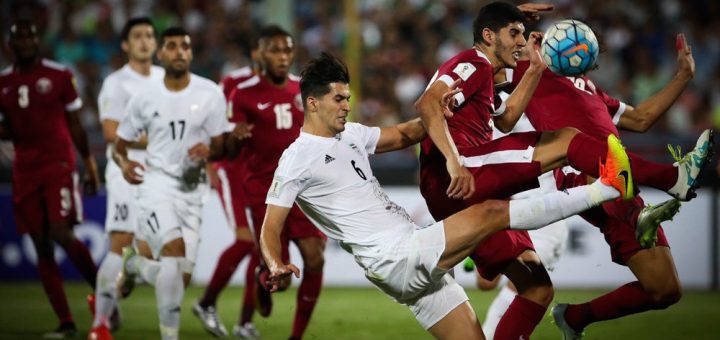 We may be more than a year away from the 2018 FIFA World Cup, but the qualifying tournaments are close to deciding some of the teams that will be making the trip to Russia next year. One of the most interesting qualifying tournaments at the moment is among the teams in the Asian Football Confederation. They always seem to have one or two teams that make surprisingly deep runs in the World Cup. The next key game in the AFC qualifying tournament is between Iran and Qatar on March 23rd.
The remaining 12 AFC teams are in the middle of their third round of World Cup qualifying. The teams have been split up into two groups of six. After a total of 10 games are played, the top two teams in each group will automatically qualify for the 2018 FIFA World Cup in Russia. The third place teams will play two more games to determine the final team to earn a spot in the prestigious soccer tournament.
The upcoming game between Iran and Qatar is huge for both teams. Iran is the only undefeated team in their group, which has helped them stay in first place through five games. Qatar has struggled against the more talented teams, so they desperately need a win if they want to keep their World Cup hopes alive.
Since neither team is explosive on offense, this game will likely be very low scoring. One defensive miscue by either team may lead to the game-winning goal. Qatar has shown that they are prone to mistakes on the defensive side of the ball while Iran is one of the top defensive teams in the world. Iran will gladly play a slow and boring game to avoid making mistakes on defense that cost them the game. This patience has helped Iran get five straight shutouts in the qualifying tournament, and it is going to be a deciding factor in their game against a desperate Qatar team next month.
A win over Qatar will go a long way to locking up another World Cup appearance for Iran. They may not be known as a soccer powerhouse, but Iran is quickly rising up the world rankings. Iran is currently the 29th ranked team by FIFA, and it will not be surprising to see them much higher when the 2018 World Cup starts. The young Iranian team is only getting better as they get more playing experience. They have already shown an ability to compete with some of the best teams in the world, so their dominating performance in the World Cup qualifying tournament is not surprising.
A draw in this game is not very useful for Qatar, so they will use an aggressive offensive attack. Sending more players forward will likely leave their defenders in bad positions, which should result in an easy goal or two for Iran. Qatar lost a qualifying game to Iran last September 2-0, and the upcoming game in March will likely have the same result.